Rainforests
SCIENCE WEEK!!
We started off my finding the total height of everyone in the class. We then compared the total with the animal kingdom to see how many equal our height. For example, our class height is equal to 1.7 blue whales.
Next, the children were shown the basic design of a paper helicopter, and put in 4 different groups. Each group either changed the length/width of the wings/tail of the helicopter. We then took the best from each group and dropped them down the stairs to find the ultimate winner.
The children were shown how to make a catapult out of lollipop sticks. They were given some time to make amendments before we had a competition to see who could launch a counter the furthest.
The children put themselves into groups of 3, and they had to decide on a science experiment that they would prepare and demonstrate to the rest of the class. It was great witnessing a range of activities.
It was great seeing many of the children dressed up for world book day. Their costumes were fantastic. In the afternoon, Tigers read to children in Pumas, and I was very impressed with their maturity as they did it.
Here are 30 mad scientists!!!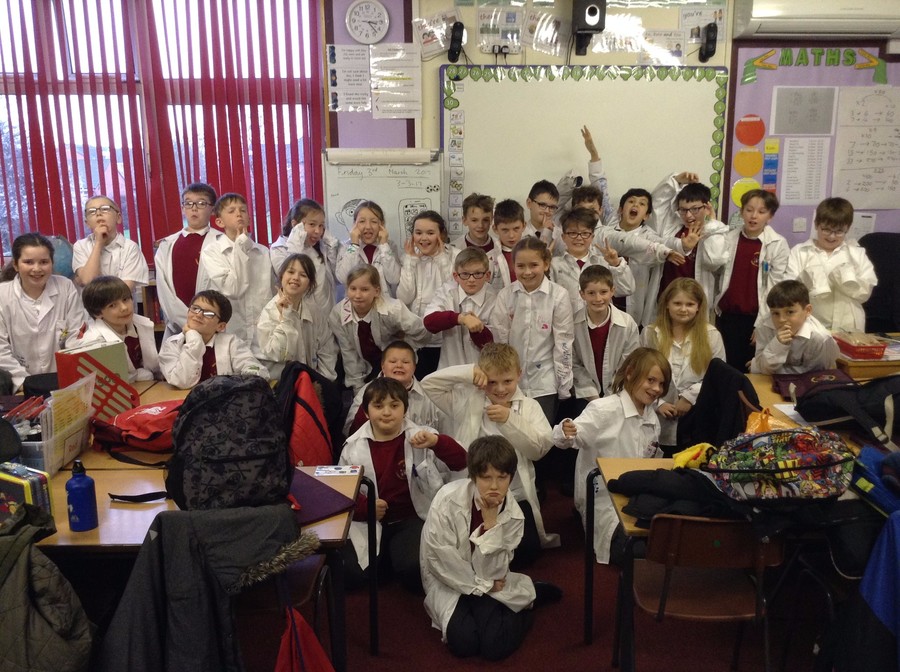 Comments (4)
Show Comments
ella kane
(about a year ago)
I really liked science week especially world book day. I loved your outfit and your hat was just INCREDIBLE. I will never forget yr 5 when I am in yr 6. thank you Mr Abrahams.
Arabella
(about a year ago)
THESE WERE VERY GOOD MR A
tyler b
(about a year ago)
I really like the pictures of us in a book costume
Mihaela Zagorodniuc
(about a year ago)
I really liked the costumes that kids wore for the World Book Day! Everyone looked fantastic! The experiments were good too! Cristian really enjoyed the Science Week and he learned a lot of interesting things!