Welcome to our Bobcats Page.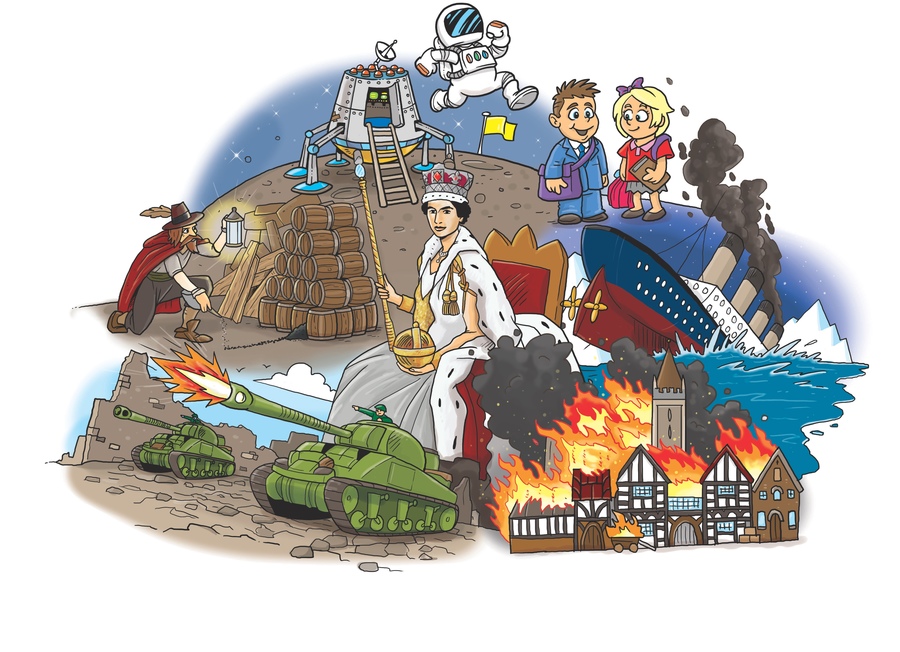 This term our topic is called:
Great and Ghastly Events.
We will explore some of the big events from British and world history some of which were great, some of which were pretty ghastly!
We will begin by looking at some of the big events we have seen in our lifetimes such as family events and starting school. We will explore how we felt at these events and the effect they had on us.
We will then go on to find out about some big events in British and world history, such as the Gunpowder Plot, the Great Fire of London, the sinking of the Titanic, World Wars I and II, the first moon landings and the coronation of our Queen, Elizabeth II. We will explore a range of sources of evidence such as listening to stories, looking at pictures, reading accounts and information, and searching for images that will help us to find out more about these events.
We may also find out about many other big events as we carry out our research.
We will look at the history of events and celebrations in our own communities and across the world.
As historians we will:
Study significant events in Britain's past

Study significant events around the rest of the world
As designers we will:
Design, make and evaluate products

Build structures and use mechanisms

Investigate our homes, the school and other places to see if we can come up with ideas and make our own inventions that others might find useful.
As writers we will:
Write labels

Write lists

Write captions

Write instructions

Present information
As artists we will:
Draw and paint images of inventions and their inventors
As mathematicians we will:
Important Dates & News
Events for the diary:
Clubs begin on Tuesday 15th September 3.30pm - 4.00pm!

Enrich IT club starts Thursday 17th September.

Swimming begins for Mrs Mcdermott Bobcats on Friday 11th September and on Friday 2nd October.

Dance with Amy starts on Friday 18th

September.

Parents evening is on Monday 5th October & Thursday 8th October.

Harvest festival is on Friday 9th October at 9.15am.
Class Information
Timetable - Term 1
Parents Welcome letter
Curriculum Newsletter
Homework
Swimming/PE
Look at what we have been learning
Our photos from our learning experiences: