EYFS Summer Term Week 10
Seaside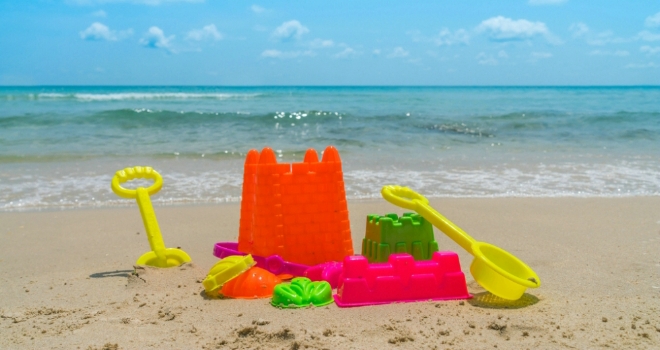 Literacy
Listen to the story. Winnie at the Seaside Story. https://www.youtube.com/watch?v=i2NwWipGGMA
Sequence pictures from the story and write a sentence for each picture. (See below)
Talk about when they have been to the seaside, what was it like? What could you see, hear, taste, smell? Write down some words to describe the seaside setting using our senses. (See sheet below)
Write your own Seaside story.
Write a list of items you would take to the beach.
Write a postcard to tell a friend what you have been doing at the seaside. (See postcard PowerPoint and postcard template below)
Design and list the ingredients that you would need to make your own ice-cream sundae. (See below)
Other seaside stories and poems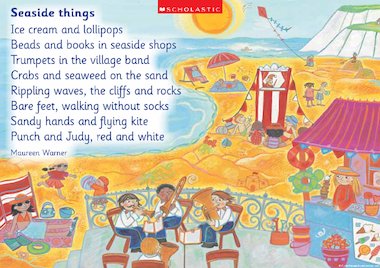 Lucy and Tom at The Seaside -https://www.youtube.com/watch?v=ZAzz_vMO1I8
Sally and the Limpet-https://www.youtube.com/watch?v=HX8vgBF1_G8
Phonics
Read the words and label the seaside picture. (See below)
Talk about words with more than one syllable. Can they clap the number of syllables in their name.
Discuss words with more than one syllable in the PowerPoint below. These are called polysyllabic words. Polysyllabic words

are

words

which have two or more syllables, for example: children. melting. (See below for PowerPoint)

Cut out and mach the polysyllabic words to the pictures. (See below)

Play phonics pop on Letters and sounds. https://www.ictgames.com/phonicsPop/index.html
Maths
Here is a link to some maths activities.
https://whiterosemaths.com/homelearning/early-years
Here are some maths activities linked to the topic.
Look at some coins 1p, 2p, 5p, 10p, 20p 50p £1. Sort them in order of amount.
How much do the ice creams cost? (See sheet below)
Use the coins to buy the ice creams. (See below)
Ask your family and friends what is their favourite flavour ice-cream. Make a pictogram to record the results. (See below)
Capacity
Choose 5 different containers i.e. bowl, mug, pint glass, measuring jug and washing up bowl. Say each will hold a different amount of liquid. Talk about how we can measure capacity in non-standard units i.e. using the same size plastic cup to fill each with water and see how many cups it can hold. We can also measure with standard units i.e. millilitres or litres. Estimate how many plastic cups each container holds. Remember that an estimate is a guess and we can compare each of our guesses i.e. if we think a jug will hold 4 cups,then a mug will be less.
You could set out a table like below to record your results:
| | | |
| --- | --- | --- |
| Container | How many cups - Estimate | How many cups – Actual number |
| Mug | | |
| Bowl | | |
| Measuring jug | | |
| Vase | | |
| Etc. | | |
Once you have carried out the investigation, can they then order the containers from smallest to largest capacity?
Ask questions about the results i.e. how many more cups can the measuring jug hold than the mug? How much water does the mug and bowl hold altogether?
Physical
Play a seaside movement game.
Show the children each picture card and discuss the name and movement for each activity. (Picture cards below)
Some examples include:
Jump over the waves – jog around the space and jump over the waves as they reach the beach. The adult could shout 'waves' to encourage the children to jump. The waves could also be made different sizes to encourage the children to jump higher or lower.
Digging a big sand hole – kneel or squat on the floor and use hands to make digging motions using a pretend spade.
Collecting shells – walk around the space, pretending to pick up shells to place in a bucket.
Sunbathing – lay on your back on the floor.
Playing with a beach ball – pretend to throw and catch a beach ball to a friend or individually. Maybe the wind might blow the ball away for the children to chase too!
Build a sandcastle – sit on the floor and pretend to fill a bucket and make a sandcastle.
Putting on suncream – stand still and rub hands over your face and body pretending to put on suncream.
Understanding Of the World
Watch Magic Grandad -https://www.youtube.com/watch?v=zWgnpY4L9so
Use the PowerPoint below to compare sea holidays now and in the past. Talk about going the seaside years ago. What are the similarities and differences? Sort the holiday pictures into now, both and the past. (See below)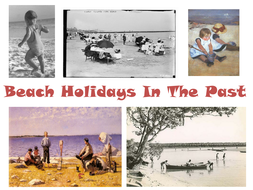 Make your own ice lollies. (Some recipe ideas below)
Creative
Make a paper plate sun.
Make an ice-cream cone. (See below for instructions)
Create your very own windmill! Decorate your windmill using paints or crayons. Or maybe you could use wrapping paper? To watch a video on how to make a paper windmill click on the link. https://www.youtube.com/watch?v=dOVmRUPNRHo
Make ice-cream play dough. (Recipe below)
Design an outfit you might wear to the beach.
Design a sandcastle (See below)
Music
I Do Like To Be Beside The Seaside song- https://www.youtube.com/watch?v=kGe4VbTzBdw