KS1 Summer 2020 Home Learning Week 2
Maths
For Maths this week there are separate units to follow for both Year 1 and Year 2. Each 'lesson' comes with a little video to explain the concept, an activity work sheet and an answer sheet. If you aren't able to print the worksheet, you can just look and discuss the questions with your parent or siblings, you could record your answers in your home learning book if you want to.
If you are in Year 1: Follow this link https://whiterosemaths.com/homelearning/year-1/
If you are in Year 2: Follow this link https://whiterosemaths.com/homelearning/year-2/
English
For your English work this week we would like you to use the story 'Diary of a wombat' to inspire your learning. Watch the story as many times as you like over the week to keep you enthused and engaged with your tasks! https://www.youtube.com/watch?v=7qMMhJ4iiu8
Monday - Listen to the story a couple of times, create an illustrated list of all the different things the wombat does with his time.
Tuesday - Listen to the story again, imagine you are a wombat. Create a grid in your workbook with the headings 'Things a wombat likes' and 'Things a wombat doesn't like' Write things into your grid using the story to help you. You could also look online for additional information too.
Wednesday - Listen to the story again, imagine you are a wombat! Go back to your illustrated list from Monday's activity. Can you think about different emotions that you might be feeling whilst doing these different things? Annotate your list with emotion words, as well as any adjectives you can think of that describe the different activities or feelings. For example 'Warm, snuggly burrow under the ground.'
Thursday - Listen to the story again, imagine you are a wombat! Can you write a diary entry about a day in the life of a wombat? Remember a diary starts with 'Dear Diary...' and you need to think about the emotions you would be feeling at different points during the day! Here is the start of a diary to get you started, you can use your imagination to add detail to your writing:
'Dear Diary,
Today has been such a busy and exciting day! This morning I was out on a morning walk after a nice, warm snooze in my burrow when I noticed that the humans that live nearby had grown some delicious, orange carrots in their garden. These humans are so helpful growing me tasty veggies so close to my burrow! Do you think they will grow me some cabbages next time?'
Friday - You need to have done the art lesson further down this page before you can do this activity! Using the diary you have written can you develop some of your own aboriginal symbols to help you retell the events of your day? You could draw or paint these symbols and see if someone else in your family can understand them.
Science
In science this term we were going to be studying 'animals including humans' in Year 2 and 'weather in the UK' in year 1.
Year 2: This week we would like you to think more about the differences between something alive and something that is not. Talk to your grown ups about babies, what do they do when they are born? What do they need to survive? How do they feel? Now think about a toy doll, how is this different than a real baby? In your work book can you write some sentences to compare a real baby with a doll. For example: A real baby feels warm to touch but a doll is made of plastic and feels cold.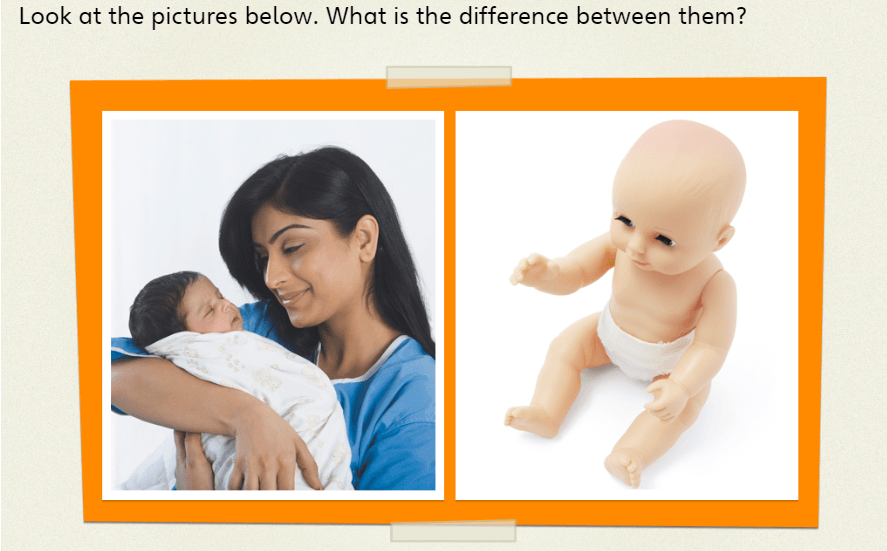 Year 1: For your science work this week you are going to find out about the difference between weather that happens inland and weather that happens on the coast. At the bottom of this page is a slide show about weather in different areas for you to get your information from. When you have looked at the slides, can you complete the activity below in your work book?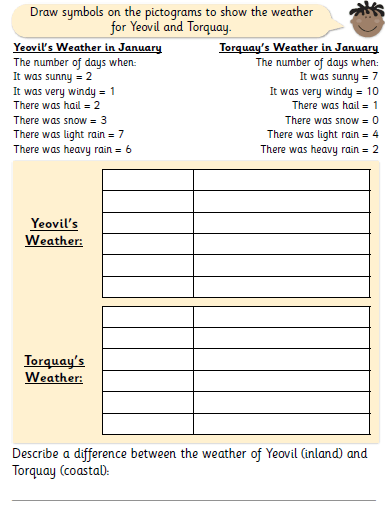 Geography
Last week we looked at where Australia is in the world and it's different states and territories. This week we are looking at using compass directions to describe the position of different landmarks on a map of Australia. Once you have looked through the slides and had a practise orally, can you use your map from last week to describe the position of the territories in relation to each other? You could write a few sentences using compass point directions. For example: 'Queensland is to the north of New South Wales.'
Art
This week we are continuing with our aboriginal art project. The lesson this week is looking at using symbols to represent words within a story. Look through the slides and look at the symbols that aboriginals used to use to represent stories. Read the story using the slides below and then have a go at drawing some of the aboriginal symbols to represent parts of the story. You could try creating your own story using the symbols on the slides!
Music
Each week we are going to give you a different piece of music to listen to. We would like you to listen to the piece of music and write down or talk with your families about the music, do you like it? What does it make you think of? Can you hear and specific instruments in the music? You could look online to find out some information about the composer of the music.
This week's piece is: 'Carnival of the animals' by Camille Saint-Saens. Perhaps whilst listening to this piece of music you could draw some of the animals that the music makes you think of! https://www.youtube.com/watch?v=1L993HNAa8M
RE
This term we were going to be finding out about the Jewish faith. This week we are finding out about Moses and the ten commandments. Look at the powerpoint below and then in your work book write down the ten commandments. Here is a video to aid your understanding: https://www.bbc.co.uk/bitesize/clips/z687tfr