KS1 Summer 2020 Home Learning Week 5
Maths
As with last week, click on the weblinks to find the videos for your maths lessons this week. The worksheets are attached below.
If you are in Year 1: Follow this link https://whiterosemaths.com/homelearning/year-1/
If you are in Year 2: Follow this link https://whiterosemaths.com/homelearning/year-2/
English
For your English work this week you are going to read the story 'The Koala who could.' Here is a link to the story. https://www.youtube.com/watch?v=Wmgxgat6HFI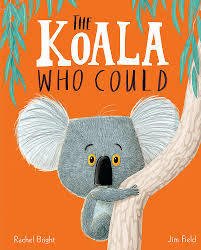 Monday – Can you create a character profile of the Koala in the story. Tell us about Kevin and what he is like as a character, how does he change as the story develops? You could draw a picture of Kevin and then write a paragraph or two underneath telling us about him, remember to think about physical features and personality traits.
Tuesday – Can you draw a line down the middle of a piece of paper and write the title 'Positives' on one side and 'Improvements' on the other side at the top of the page. Write down things you liked about the book under the column 'Positives' and write down any ideas for improvements or changes you have that could help make it even better!
Wednesday – Can you create a book review about 'The Koala Who Could'? Include things like: book title, author, fiction or non-fiction, would you recommend the book? Why? What is it about? What would you rate it out of 5? What is good about the book? How could it be improved? Here is a link to a book review format you could use.
Thursday - Can you design a new front cover for the book and write the blurb that would go on the back to entice new readers tWeather Patterns Slide5.pdfo look inside? Have a look at some books in your home and read their blurbs to get an idea of how much to give away about what is going to happen!
Friday -Book sorting activity! Collect a pile of books, magazines or other reading materials from around your home. Can you sort them into two groups, fiction and non-fiction, on the floor? What type of book do you have more of? Which do you prefer? Before you get started, here are some online videos and activities to get you going:https://www.bbc.co.uk/bitesize/topics/z2yycdm/articles/zty8xfr
Year 1 Science
This week in science you are going to be looking how the weather in the United Kingdom is different than the weather near the equator. Equator is a new word in our geography dictionary, it is an invisible line which goes around the centre of the Earth. Here is a video to explain a little more about the Equator and other longitude and latitudes of the planet. Don't worry too much about remembering all of the new vocabulary, the main thing you need to know is that the weather in different places on the planet is different than ours! https://www.youtube.com/watch?v=5tC8OOxOFEk
Once you have watched the video, look at the slides below to find out more information. For your task this week here are some statements below about weather around the world. You need to sort the statements into those which are true and those which are false using the information you've gained in the session. Good luck!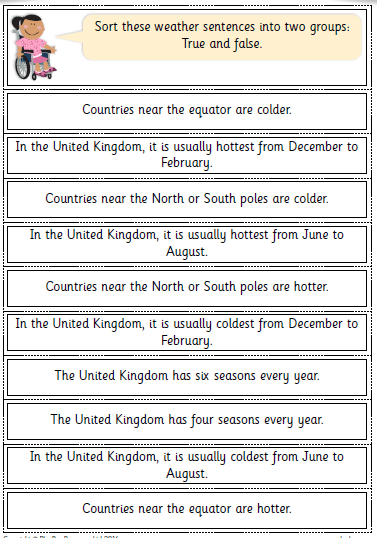 Year 2 Science
This week we are going to think more about how different living things change from their births to adulthood. So far in this unit we have considered a human life cycle and the life cycle of another animal of your own choice. Here is a short clip to get you thinking: https://www.bbc.co.uk/bitesize/clips/z8x76sg
For your independent work this week we would like you create a grid titled 'Adults who look like their young' and 'Animals who don't look like their young.' You can write, draw or both to complete your grid. Here is a set of pictures to help you if you aren't too sure!
Geography
In Geography this week we are going to think about the physical features of Australia. We learnt about physical features last term when we looked at citites. A physical feature of a country is a feature or landmark that has been created naturally, not by humans! Below are the slides to help you with this learning this week, after you have read through them, can you add some of the physical features within them to to maps of Australia you created earlier in this unit? If you wanted to you could look online and find some other physical features of Australia to add to your maps.
Art
In art this week we are going to use the different skills we have learnt about to design our own boomerang! Look back at your cross hatching, symbols and dot art work, you are going to use all of these elements to create your own Aboriginal inspired boomerang. Here is a template you could use if you want to, you could ask an adult to cut a bigger boomerang out of cardboard if you have any! You can use any media you want to create your boomerangs. Look at the slides below to give you some ideas.
RE
This week we are continuing to learn about Judaism, looking in particular at some of the rules Jewish people have to follow from the Torah. The Torah tells Jewish people about certain foods that they are and aren't allowed to eat. The slides this week will tell you all about these foods and teach you a new word: Kosher. Here is a short video to explain what Kosher means: https://www.bbc.co.uk/bitesize/clips/zqwmpv4
For your independent activity this week we would like you to use the information you have learned to create a Kosher menu for a Jewish family! Here is a template you could use to help you set our your work.