KS1 Summer 2020 Home Learning Week 11
Maths
Please find the worksheets for this week's maths activities below:
Year 1: This week you need to click here to find the videos for Year 1 maths!
Lesson 1: Describing turns
Lesson 3: Describing position
Lesson 4: Problem solving with position and direction
Year 2: https://whiterosemaths.com/homelearning/year-2/
Lesson 1: Measuring litres
Lesson 2: Measuring temperature
Lesson 3: Time: O'clock and half past
Lesson 4: Time: Quarter past and quarter to
English
Week One: My emotions and me.
English: Poetry!
For the last two weeks of this academic year we are going to end our carnival topic and talk more about how we feel and think more about ourselves. This week in particular, we are going to look at poetry and how we can put our feelings and emotions into a poem. Now you have found out what class you are going to be in next year, we are going to focus our literacy on getting ready for our next school year. Sometimes it can be tricky to talk about how we are feeling and many people write (including poetry) emotions down so we can understand them more.
Monday:
Now you have found out which class you are going to be in next year, I'm sure you are wondering about your new teacher! Some of you may have the same teacher this year but you can use this as an opportunity to get to know them better. Have a think about what you would like to know about your new teacher and what questions you would like to ask them. You can ask them questions about them or what year 2/3 is going to be like in September. Send your questions to your current teacher on seesaw so they can pass them on to your new teacher for September. Your new teacher is then going to create a short video for you all answering some of the questions you send in!
Tuesday:
Today we are going to look at poetry and revisit some basic elements of poems. Underneath I am going to attach two poems that I want you to have a go at reading. Can you circle interesting things you find in the poems? Is there any rhyming? Is there any Interesting vocabulary?
See if you can read one of the poems aloud and make up different actions as you read it. If you are feeling really brave, you can perform it to an adult or get an adult to video you performing it. If you'd like to find your own poem, then you can!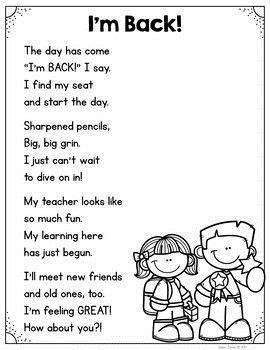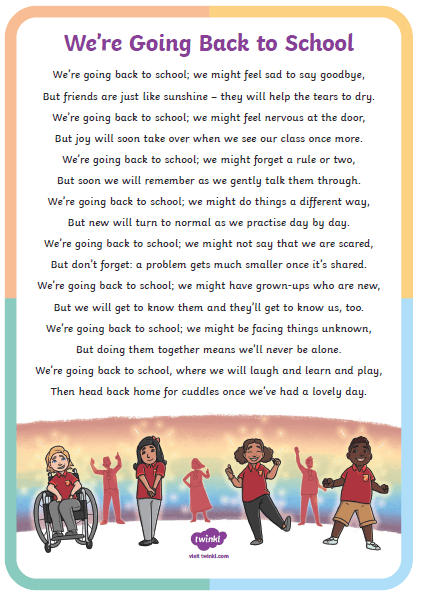 Wednesday:
Today we are going to think about how we are feeling about school in September! Are you excited to be in your new class? Are you feeling nervous about being in school again? Can you make a word bank using interesting vocabulary to describe the different emotions you are feeling for September? Maybe have a go at writing some sentences to describe why you are feeling like that. Click here for a vocabulary list to help you!
Thursday:
Let's have a go at writing our own poems about how we are feeling about September. You can use everything you have learnt so far, including some of your emotive vocabulary you came up with yesterday. If you want to you can add some rhyming or alliteration in your poem! (There's some videos to help you with this!)
https://www.bbc.co.uk/bitesize/topics/zjhhvcw/articles/zqjgrdm
https://www.bbc.co.uk/bitesize/topics/zfkk7ty/articles/zq4c7p3
You can write any type of poem you want to but you could have a go at writing an acrostic poem. Click here for a power point on how to write an acrostic poem. Click here for a template!
You could send us a video of yourself reading your poem if you like!
Friday:
Today we would like you to think about yourself, what interesting things would you like your new teacher to know about you? Create a 'top ten' list of facts that you want to share with your new teacher, if you send them to us on seesaw we will send them to your new teachers to read!
Spelling and Reading
Please find below the spelling slides and activities for this week:
Year 2 slides Year 2 wordsearch Year 2 handwriting
Year 1 slides Year 1 wordsearch Year 1 handwriting
For your reading tasks this week please click below:
Year 2 'Roar' poetry activity.
Science
We have now come to the end of our learning about plants so we thought it would be fun to try out some at home science experiments for the last two weeks of term! Below are links to two different science activities, we can't wait to see pictures of your results at home!

If you wanted to think scientifically you could make predictions before you cary out your experiments about what you think will happen and why!
Art
As we have been starting to think about our transitions to next year this week and ourselves, for your art activity this week we would like you to create a self portrait! It could be a painting, drawing or collage. You could also use a tablet or phone to take some selfies and turn then into a collage on the pic collage app!