LKS2 2020 Summer Term Home Learning Week 7
Spellings for the term can be found here
Maths
Maths still looks a little bit different.
For the videos this week:
year 3 you will need to open this document to find the links
year 3 you will need to open this document to find the links
Year 3
Year 4
English
Monday:
Watch the following videos about a dragon sighting. Video 1 Video 2
Summarize what happened in the video. Write down some interview questions and ask your parent/guardian how they would feel if this happened in Deeping. Write down their answers.
Tuesday:
Look at the examples of newspaper reports and highlight the key features. Think of any key vocabulary that you could include in your newspaper report.
Wednesday:
Plan your newspaper report on a dragon flying over Market Deeping using the planning template.
Thursday:
Write your newspaper report, you should include; what happened (using exciting vocabulary), your interview, what might happen next and a picture.
Friday - Here is a extact from a non-fiction book, use your VIPERS skills to answer the questions based on what you read.
Science
This term Year 3 are focusing on what plants need to grow and survive. This week you are going to focus on how plants grow best. Think about everything you learnt about plants last term. Now thing about all the places a plant might be able to grow. List all the places plants can grow that you can think of. Pick one of the places on your list and draw a plant growing there, label the features of your chosen place that help the plant grow EG in a garden – the ground, sun, air, nutrients etc. Then read these statements and decide if they are true or false – write true or false next to each statement to show your thoughts.
This term Year 4 are focusing on food chains and dangers to the environment. This week you are going to focus on the effect of environments and habitats changing. First, write down definitions for predator, prey and producer, do some extra research if you need to. Then read these true and false statements and decide if they are true or false, write your thought next to the statement. Finally, look at this picture and answer these 3 questions:
Can you think of a few living and non-living things in this enivornment?
Can you identify their basic needs? (E.g. sources of food and water, a place to live or shelter)
What might happen to those things if the environment changed?
History
This week we continue our new History topic... the Vikings!
When the Vikings arrived in Britain they found a kingdom already in place, let's find out about the Anglo-Saxons Lesson 2
Computing
This term both year groups are going to be completing the same project. You will be completing a poster project. You will complete 3 posters using different mediums and them compare them at the end of the term. Last term we learnt all about climate change, the purpose of all of your posters is to show your knowledge about climate change.
For the next two weeks you are going to make a poster using Microsoft word or a similar program. This week, explore Microsoft word using this powerpoint.
You might want to take a picture of what you have done and post it on seesaw.
Art
Draw a portrait of yourself (you may want to use a mirror). Turn your portrait into a viking; add a helmet, shield and a beard!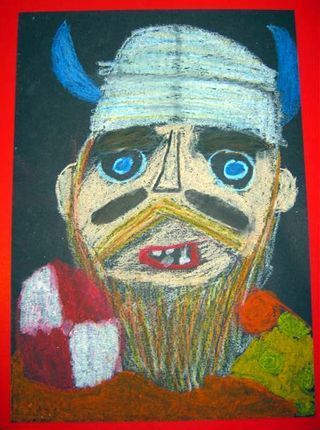 French
This week in French you will be learning about the weather. Use the PowerPoint to help you fill in the worksheet.